A free, step-by-step guide from a mystery party script author
I've been writing murder mystery scripts since 2008.
My scripts have helped over 20,000 people host murder mystery parties, and this guide will help you host yours, too! - Ken Blumreich
Are you looking for a way to throw a fun, affordable party that your friends and guests will talk about for years? Then look no further! Murder mystery parties provide a uniquely entertaining experience that you and your guests will never forget.

How to Host a Murder Mystery Party

There are 3 steps to hosting a murder mystery party:

Choose Your Game - Download, purchase, or write a game script that works with your venue, theme & guest count.
Plan Your Party - Invite your guests, plan a menu, and decorate the venue.
Throw Your Party - Receive your guests, serve food & drinks (optional), and guide them through the game.

This guide will walk you through each step so you have the tools and confidence to throw a fantastic murder mystery party!
What Is A Murder Mystery Party?
This type of party brings your guests together for an event where they find themselves at the center of a mysterious murder scene.
As the host, you enlist your guests to help you solve the crime. They will need to work together and discuss the clues they find. Assuming they are clever (and lucky), they'll discover the identity and motive of the culprit.
STEP 1: Choose Your Game
There are many murder mystery party kits available for purchase online and in stores. But before choosing one, you need to know some specifics.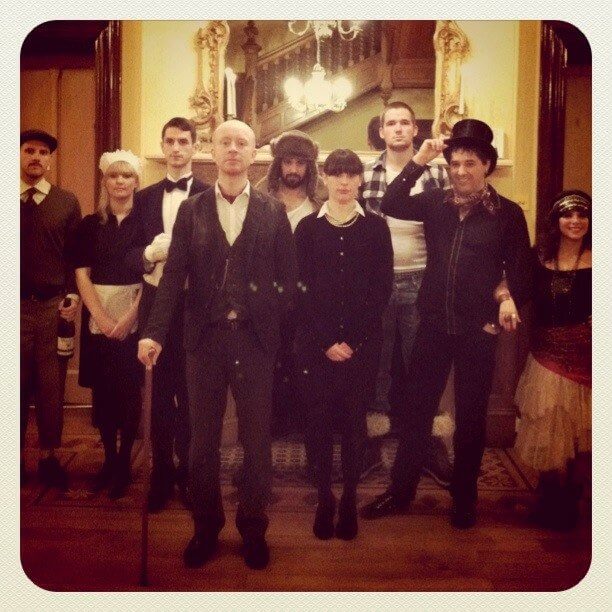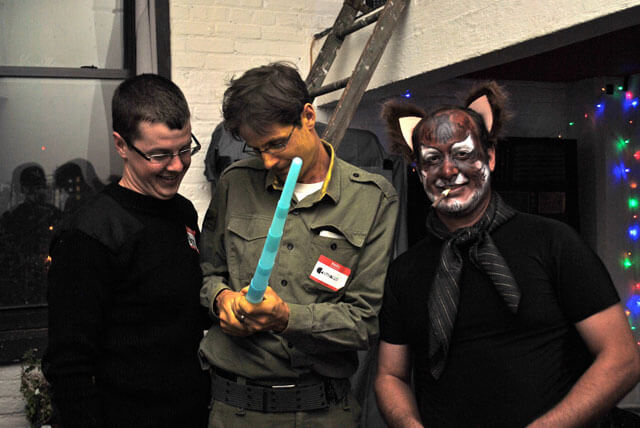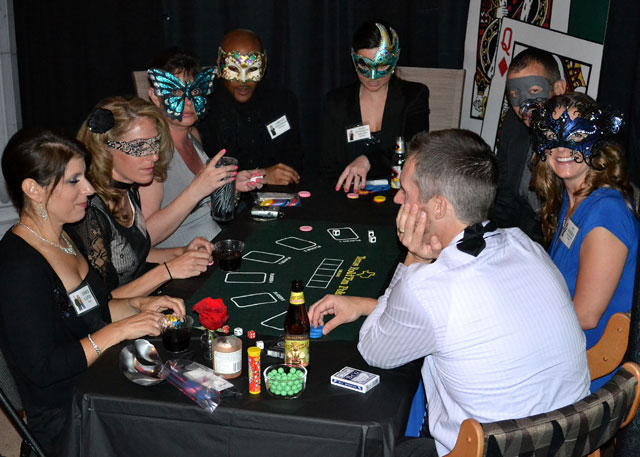 Have fun with this choice! It will set the tone for your party.
Step 1 Review
Now that you have weighed the pros and cons, it's time to review your options and make your choices.
Review Game Options
Use the links below to return to a previous section for review.
Now it's time to select your options. If you printed this guide, you can write your choices here:
Ready to plan your party?
If you already have your game or would like to learn more about how to plan a murder mystery party, continue to Step 2.
STEP 2: Plan Your Party
Once you have your game kit, it's time to plan out all the details.
Here are the steps to planning:
Read Your Script
As the person organizing the party, your job is to make sure that everything runs smoothly and that your guests leave with great memories of the event!  A little extra time invested up front will ensure success.
Read the Entire Script - Make sure you know everything that has to happen to throw the party. You don't want surprises on the day of the event!
Ask Questions - Contact the script provider if you have any questions about how the game works. Chances are they'll be happy to help! If you have any questions about my games, I can be reached here.
Research Your Theme - Make sure you know what decorations, food, costumes, music, and slang are appropriate for your setting and time period.
Invite Your Guests
Everyone will be excited to get your invitation, but it's important for you to know in a timely manner who will be coming.
Guest List - Make sure you have enough confirmed guests for the party and backup plans in case anyone can't make it.
Invitations - It's ideal to send out invitations a 2-4 weeks in advance so everyone has plenty of notice. RSVP's should be in a week before the party so you know if you need to invite more people.
Decorate Your Venue
Decorating can be one of the most fun aspects of hosting a murder mystery party. But in addition to making the venue look right, you have to plan out how you'll use the space.
Layout - If your mystery involves multiple areas (e.g. a casino mystery may have areas such as a poker room, bar, surveillance room, etc), decide in advance which rooms at the venue will correspond to which game areas.
Props and Decorations - A bit of decorating goes a long way at a murder mystery party. Make sure to gather a few props and decorations that will set the appropriate mood for your guests.
Audio - Some games come with background music or sound effects that can be played at specific moments in the game.
Plan Your Menu
While not all murder mysteries are set up as dinner parties, many are.  If you are going to serve food, you should plan the menu around the party:
If you would like to go any of these planning topics in more detail, you can read my expanded article about Step 2.
Otherwise, continue to Step 3 to learn more about throwing your party!
STEP 3: Throw Your Party
If you've done a good job of setting up and preparing your murder mystery party, this part should be easy!  While the exact steps of the party will vary depending on the particular script you are using, most will follow a somewhat similar outline:
Guest Arrival
Introduction
Mingling and Eating
Murder!
Solving the Mystery
Awards and Wrap Up
1. Guest Arrival
Your guests will need your help getting oriented as they arrive. Suggest that they get to know each other's characters. This serves as a good icebreaker and a great segue into the actual party.
As they arrive, follow these steps:
Hand out name tags
Provide character sheets to anyone who doesn't have one
Instruct the guests to mingle
2. Introduction
After everyone has arrived and had a chance to mingle, explain how the party will proceed:
Describe the setting and tell everyone why they are there (most party kits will have a script that you can read aloud that will "set the scene").
Provide notebooks and pens for everyone.
Answer any questions people may have.
Tell your guests that they are free to continue mingling and to follow the instructions on their character sheets.
3. Mingling and Eating
Encourage mingling. During the first part of most murder mysteries, the guests will have a chance to mingle with each other and pursue their own objectives and agendas before the murder occurs. This is when everyone learns about each other's characters.
Keep everyone involved. As host or hostess, your job here is to make certain that everyone is active and participating; if one of your guests looks lost or overwhelmed, don't hesitate to help them out and provide some pointers or suggestions.
After the guests have had time to mingle and conversations appear to be winding down, move on to dinner (if you plan to serve food), or proceed directly to the murder.
4. Murder!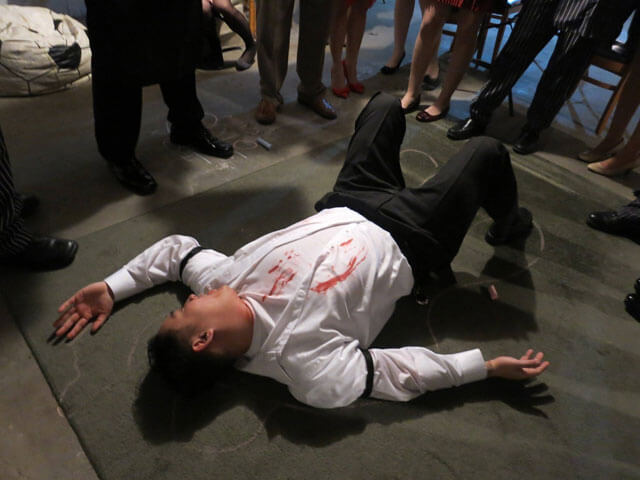 The murder will, of course, occur "off stage."  There are generally two ways to handle this:
The murder occurs during a blackout moment
The host or hostess turns off the lights for a brief time and when they turn them back on, the "victim" is lying on the floor.  This approach has the benefit of being very dramatic and exciting, but it requires excellent timing and a space that will be sufficiently dark that the other guests don't see what happens.


The murder occurs during an intermission
The host or hostess pauses the party and preps the murder scene, then allows the guests to enter and explore.
5. Solving the Mystery
Once the murder has occurred, it will be up to the guests to solve the mystery.
The key to the solution will usually involve one or more of the following:
Using knowledge and information gained during the earlier portion of the evening;
Using new information provided by the host or hostess regarding what the guests see and find at the scene of the crime;
Using actual clues that are hidden around the murder scene.
Guide your guests through the investigation. As host or hostess, you will need to explain to the other guests how to proceed at this stage.  If they are going to do a scavenger hunt for clues, explain what they are doing and what area or areas they are allowed to search.
Many games come with physical clues. The clues can either be actual objects, such as a fake knife smeared with stage blood, or they can be printed cards that describe the clue in writing. For example, there could be a clue card with a picture of a broken bottle and a paragraph that states:
Broken Bottle: Clue #2 of 7
You find a broken bottle that was obviously used as the murder weapon. There are fingerprints on the bottle that indicate it was held in someone's left hand.
Prompt guests to discuss and vote for killer. Once all of the clues have been gathered and the information shared, the guests will discuss among themselves what they think happened, present their ideas and information, and then individually vote on who they think the culprit is.
Hand out voting sheets. Most mysteries include a premade "Whodunnit?" form that each guest can fill out; alternately, they can just write their answer on a slip of paper.  The host or hostess collects all of the sheets and notes which guests have correctly solved the mystery.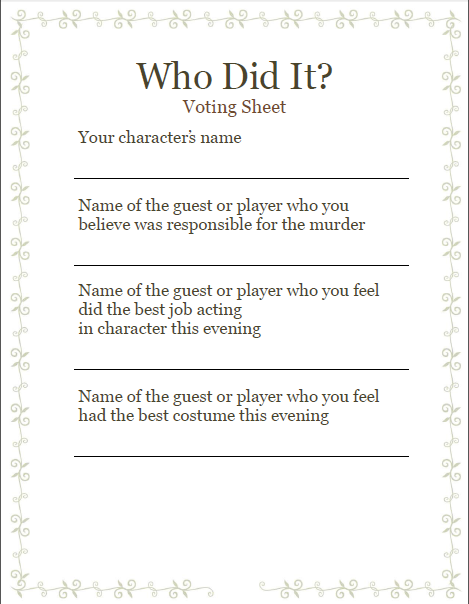 6. Awards and Wrap Up
Reveal the killer!  Once everyone has cast their votes, you will reveal the culprit to the group. You can explain their motives or let the killer speak on their own behalf. Either way, there should be some fun discussion as your guests discuss the outcome of the game.
Hand out the awards. If you are handing out awards or prizes, now is when you will personalize and distribute the awards and give out any door prizes.
Your murder mystery party is finished!
Once the murder has been solved and awards handed out, you will have successfully completed your murder mystery party! Your guests will surely discuss the mystery for as long as you allow them to stay afterwards. Make sure to get pictures while they are all in costume!
Share your party experience. Depending on the source of your mystery party, you may consider sending feedback or writing product reviews, or submitting pictures or video of the party.  A good murder mystery company will welcome and encourage feedback and be eager to improve their product line.  There may even be incentives offered for doing this – at www.playingwithmurder.com, I always offer substantial discounts and coupons to anyone who provides feedback or writes a review!
And That's It!
That's everything you need to know in order to throw an incredible murder mystery party!
Any questions? If you have any questions about murder mystery parties or about any of the material in this guide, please feel free to contact me and I'll be happy to answer!
Ready to host? If you're ready to get started with your own murder mystery, we invite you to start shopping for downloadable mystery games on Playing With Murder.
Shop Murder Mystery Party Games
Leave a comment! Did you find this guide helpful? Please let us know by leaving your thoughts at the bottom of the page.