Choose a Mystery Party Kit
Two Types of Games
Mystery Party Kit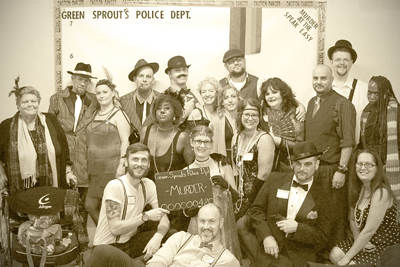 The classic murder mystery party.
Great for:
-Dinner and birthday parties
-Office parties
-Groups of 8-35 people
-Adults and teens
This is the popular, mix-and-mingle mystery party format where everyone dresses up and works together to solve a mystery in a mostly unscripted event.
View Mystery Party Kits
30 Minute Mystery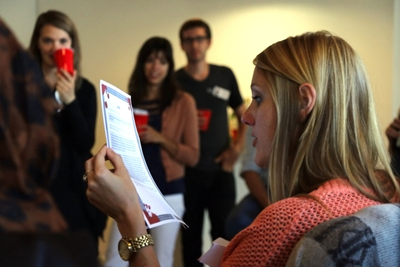 A quicker, more organized mystery game.
Great for:
-Seated events
-Large events (fundraisers, reunions, etc)
-Groups of more than 35 people
-All ages
This is a mostly scripted game where players, share information with the entire group one at a time. Usually seated around a table. Great for any group, especially kids, seniors and large groups.
View 30 Minute Mysteries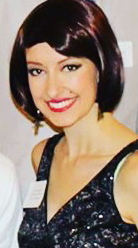 Playing with Murder is hands down the best murder mystery company!
The plot was great and kept everyone on edge. Everyone really played into their characters, and we received so many compliments for going "all-in" on the theme! I had so much fun planning this party!
-
Karlee
(
www.AllAmericanWife.co
) on her
Jazz Age Jeopardy
party
Last Updated: 8/17/18
Many of our hosts are starting to think about their Halloween plans for the year, so today we are featuring Alex's party from last year's holiday, which has become a continuing tradition for her and her friends. Let's see if Set Sail For Disaster was a deadly success or a murderous disaster.
Read More

Murder Mystery Party Description
What is a Murder Mystery Party?
A murder mystery party is an event where guests play the suspects in a mysterious crime, taking directions from the host and working together to uncover clues and solve the mystery as a group.
Playing With Murder's mystery party games come as downloadable PDF kits that include scripts, character sheets, printable clues and everything else you need to host a mystery party. Perfect for dinner parties!
Mystery party games provide a great excuse to get a group of creative friends together for fun! Just pick a mystery game, plan your guest list, schedule a date, then use your kit to run the party.
Why Choose a Murder Mystery Party?
With all of today's varied entertainment options, you may ask why someone would throw a mystery party. Why set up an elaborate, pre-staged murder scene when you could instead invite a group of friends over for a simple meal and a movie or go to the theater instead? The answer, of course, is to create a night to remember!
---
A Unique Experience
A well-written mystery party incorporates elements of novelty and interactivity that are hard to find in other entertainment activities. Instead of being audience members, you and your guests will take on the roles of killers, criminals, spies, detectives and suspects. You will examine the clues and evidence presented and conduct your own investigation into the nature of the events leading up to the crime and the identity of the murderer. You and your guests become the actors in your own thrilling tale of treachery, deceit and death!
---
Memories for a Lifetime
A successful dinner party may linger in your guests' memories for a few weeks at best, but a murder mystery party that includes carefully crafted scenes, dress descriptions, role-playing tips, personalized invitations and awards for your guests, and numerous extra activities and mini-games for the players, is certain to be one of the most memorable events to which your guests have ever been invited!
---
We Make Hosting Easy
And best of all, our company is committed to making it easy for you! At Playing With Murder we make it our business to ensure that all our party scripts are professionally designed and extensively play tested to provide all the features necessary for creating a social event suitable for any occasion: dinner parties, birthdays, corporate retreats, company team building exercises, school problem-solving lessons or just for an awesome get-together that will be enjoyed and remembered by all!
---
Parties for Every Occasion
Whether you are on a budget and want a simple, unique way to entertain your friends, or if you want to devote an entire weekend to a lavish party where your guests spend hours unraveling the dark details of the plot until the grand conclusion is revealed, Playing With Murder has a party for you.
---