Greetings friends and fellow mystery aficionados!
Today's post showcases another murder mystery party, Jazz Age Jeopardy as run by Crystal!
Crystal had this to say about Jazz Age Jeopardy:
"This was my First time hosting a Murder Mystery, and first time attending a Murder Mystery that was SO involved. I am SO happy I chose Playing With Murder - Jazz Age Jeopardy for my Birthday Party, as the 120 pages of paperwork involved with instructions, scavenger hunt clues, certificates, and character development was well laid out, and I was able to set the scene."
Crystal went all-out to create an awesome and authentic speakeasy for her party- complete with pictures from the 1920's and bullet holes throughout the house- the perfect atmosphere for a mobster-ridden jazz club in the Prohibition Era.
The upstairs poker room featured some additional evidence of past criminal activities.
The main level was the main part of the club, where food and drinks where served.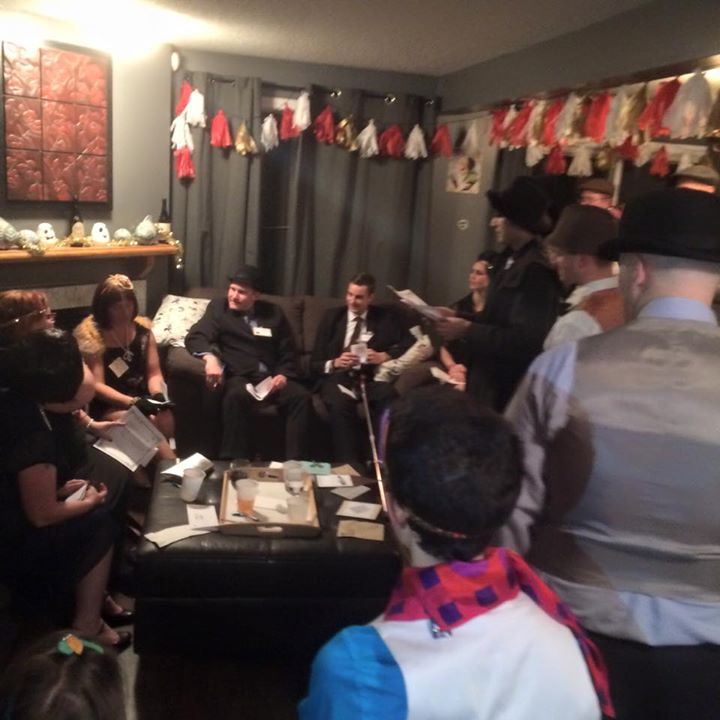 The basement level had old movie pictures, and was also the scene of the murder.
Crystal also set up two photobooths, complete with hand-made props, hats, and other accessories.
And she used scrapbooking supplies to add additional features to her décor.
Crystal said her guests also put a lot of effort into making their costumes and getting into character and that this helped make her party a great success!
Crystal also said:
"I've already had requests for another party, and a month later, friends are STILL talking about it!"
Thank you so much Crystal! We're glad we helped you have an amazing party and we would love to be a part of your next one too!