We're all excited about the new movie Game Night here at Playing With Murder. The film, starring Jason Bateman and Rachel McAdams, opened Feb 23rd and centers around a group of friends that get together for a murder mystery party, which appears to get a bit out of hand.
WANT TO THROW A MURDER MYSTERY PARTY LIKE THE MOVIE?
Game Night is about a murder mystery party that goes wrong. If you want to throw a murder mystery that goes right, use one of our downloadable game kits.

Our kits give step-by-step instructions on how to easily organize and run a murder mystery party, as well as printable character sheets and clues - everything you need to host a murder mystery party.
Download a game kit and follow the instructions to host your own murder mystery event. Whether your night ends up with your guests chasing down an airplane in a car (like in Game Night) all depends on you and your guests!
Try one of the following games at your next party:
It's the people that make the party so you can't go wrong with any of these game styles. Live your own movie by inviting your friends to play characters in a wild night of deadly mystery and fun. Start planning your party tonight!
View all murder mystery party kits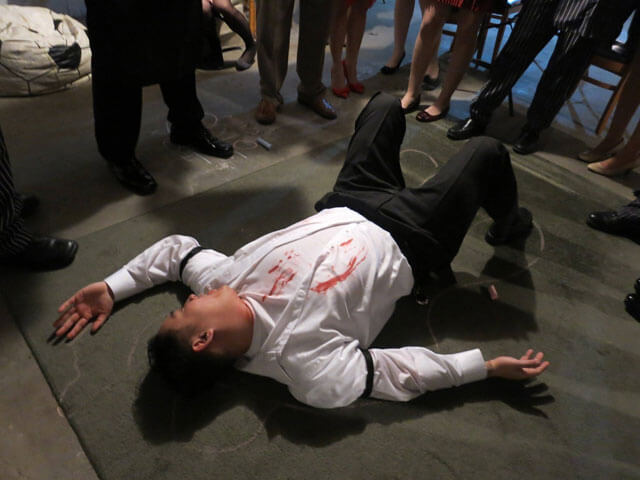 What is a murder mystery party?
A murder mystery party typically brings 8-30+ friends together to solve a whodunnit style mystery, each guest playing a character that could ultimately be the game's killer (or victim). They are typically theme parties where the venue is decorated and guests outfitted in the proper attire for the plot's time and place. These games are great for birthday parties, corporate parties, fundraising events, school parties, and of course - game night!
See Game Night in theaters
Game Night opened in theaters on February 23rd. If you went, please let us know what you thought of the movie in the comments. Otherwise, check out the Game Night trailer below and let us know if you plan to go!